Welcome to my website

My name is Ash and thank you for visiting my website. Below is some blurb that tells you a little about me!
I am a Leader, a Digital specialist who has over 10 years' experience in the online digital, new media industry and have provided solutions for various clients.
I have recently become a Google certified professional and passed my exams for Adwords in search, video, display, shopping, and mobile advertising. You can view my certificates by clicking on the image below: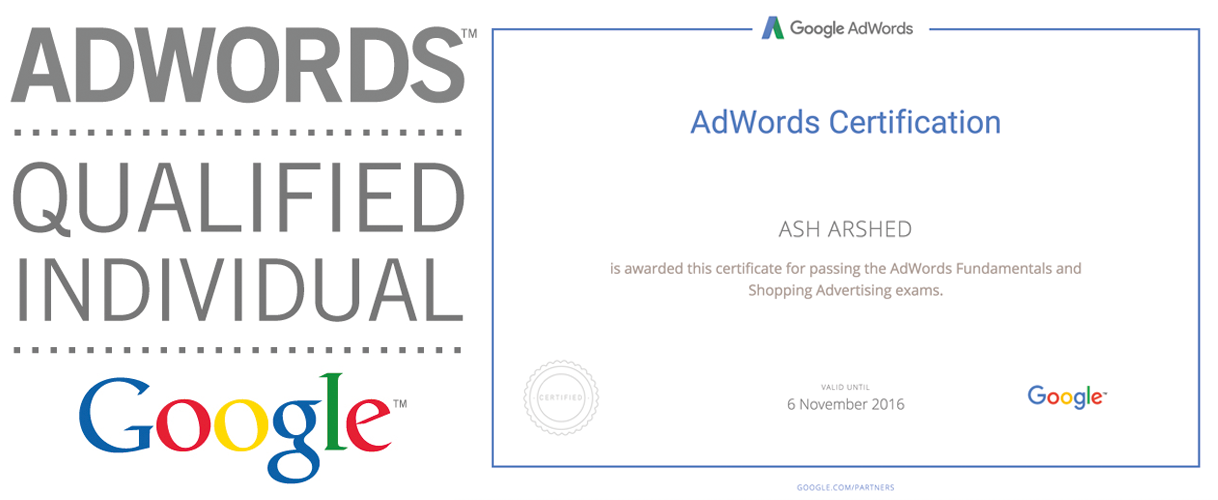 Graduating from the prestigious University of the West of Scotland with a Bachelours Hons degree in New Media Technologies. I have obtained a wealth of knowledge on the latest digital and online technologies within the market place. My current role as the Design Team Manager for fatBuzz involves managment of the design team, business development, eCommerce services, digital sales, online marketing, account and project management, SEO, PPC, Adwords marketing, social media setup and managing and delivering a range of large scale Digital projects to clients in various sectors.
Last year I completed a number of projects for both the Commonwealth Games Glasgow 2014 and the 2014 Ryder Cup. I helped deliver the Technology Service Integration for both these events.  I have a proven track record of consistently winning high levels of e-business within a competitive market place. My area of expertise is online paid marketing and eCommerce solutions. I am a Digital Marketing and eCommerce specialist who has the knowledge and experience to deliver product launches online and to manage the end-to-end online user journey. I work within a vibrant digital creative agency. Online is at the heart of our business and I am passionate about delivering exceptional customer service. I have successfully helped a wide range of clients develop successful online profitable businesses that now have multi million pound turnovers with a key focus around PPC spend. I am able to quickly establish credibility with senior decision makers in a wide range of business contexts, all with the aim of helping to grow the company brand and market share. I have a first rate track record of performance and commitment as well as being able to deliver business value to the digital sales and marketing operation of a business.
I also like to keep abreast of current and emerging technologies in the digital and online market place and align these with business issues to create solutions and services which deliver tangible business value to our clients. I have over the years built up expert knowledge in e-business and online marketing strategies and have worked on numerous campaigns helping businesses develop their online presence and establish multi-million pound turnovers.
---
Leave a Reply